Now is the time of year when many people start thinking about New Year's Resolutions. For those whose resolution is to make a career change, now is also the best time to start preparing for the job search.
Of course, looking for a new job can be daunting. Job seeking is one of the most stressful and overwhelming life events for most anybody. If you are thinking of changing careers or reinventing yourself and pursuing a completely different line of work, the process requires a lot of time, planning and patience.
By starting right now, you can be so much better prepared to launch into your new journey.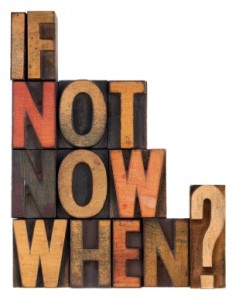 One of the things that I try to counsel my job-seeking clients is to create ways to make what seems completely overwhelming… manageable.
Here's an easy trick: Create small goals and then commit a short amount of time each day toward those goals to show demonstrable results in a short period of time.
Let me give you an example: A novelist friend of mine commits to writing 300 words every day. No matter what. Now think about that: 300 words x 30 days per month is 9,000 words! Now some days might be more difficult and other days the words flow like water, but the commitment and perseverance to the goal is what matters. It's forward progress. It's results.
So as a job seeker what are manageable goals?
If you started today and committed to spending 20 minutes per day working on job-search related goals, by the end of December, you will have spent 10 hours on your job search. Think about how much you could get done in 10 hours by January 1, 2017.
Here are manageable and achievable 20 minute goals you can work on:
Write a short narrative about yourself that you'll use in your resumes, cover letters, interviews, networking events. Practice saying it out loud. Don't be shy: define your background, skills, accomplishments and of course, what is that you want to do! Get used to this. You are marketing yourself and you will be expected to confidently define yourself in a variety of job seeking settings.
Start writing (or updating) your resume. Spending 20 minutes per day for one week, you will have spent over two hours working refining and polishing your resume.
Make lists of individuals – friends, family, colleagues, neighbors, clients – that will be part of your job-seeking network. These are people who can be partners in your job seeking journey; folks that can keep you motivated, make referrals, give you advice or, perhaps even a new job!
Research companies or nonprofit organizations that you want to work for. December is the month the Denver Business Journal's Book of Lists is published. It is a full of details on the top performing companies and industries in Colorado. You can also find out a wealth of information from a company's website, LinkedIn or from local business media.
Discover what learning opportunities are available to enhance your skills. Look at the schedules of classes available or certificate or degree programs that will be helpful in your job search.
Practice writing a cover letter. Cover letters are an essential link between applying and getting a job offer. Preparing your standard cover letter that can be modified to reflect the details of each job you apply for will be a time saver when you are in the fast-paced rhythm of your job search.
Write your perfect job description describing what your next job will be. I've always found that this exercise helps you define your marketable skills, your accomplishments, your experiences and your value.
Research and join a professional association related to your chosen field. Most professional associations attract people with common backgrounds and are terrific opportunities to network and meet new people.