When I was doing a lot of hiring at previous jobs, one question that I would always ask potential employees was, "Did you ever w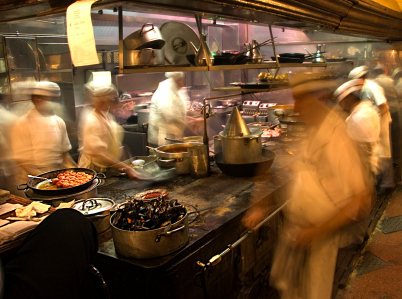 ork in a restaurant?"
From the time I was 13 to 23-years-old, I worked in a variety of restaurants and in a variety of positions and knew the type of skills and talents it took to be successful in a restaurant environment.
The qualities it takes to succeed in a restaurant are very much tied to the qualities it takes to succeed in business: team work, customer service, multi-tasking, politeness and energy.  Working in a restaurant means you have to juggle the personalities of a variety of different characters  and develop ways to have them all on your side.   Every day you are required to manage a range of mini-crisis and difficult situations.
In my restaurant life, I worked as a dishwasher, busboy, waiter, bartender, line cook, prep cook and restaurant host.
As a waiter, I had less than an hour to create a successful experience for the diners.  My tip (the majority of mysalary) relied on it!
In my role as a cook,  the waiters, the customers and the reputation of the restaurant relied on me to serve fresh, hot meals in a timely and consistent manner.  On busy weekend nights, four cooks would be responsible for preparing over 350 meals in a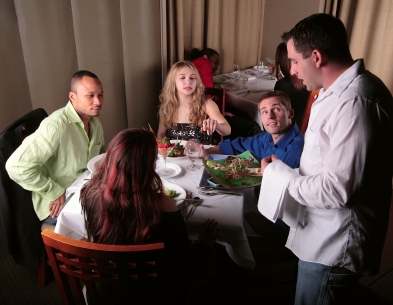 short, five-hour window.  Hands, knives, pots and pans, hot stoves, ovens and grease were flying everywhere…every detail required your full attention and as important was working in tandem with the other cooks to make sure all of the food came out together.  The multi-tasking roles I learned as a cook are still relevent to everything that is required of me today.
If you have worked in restaurants, it is completely appropriate to describe those skills and experiences and explain how and why they are relevent to the job you are seeking.
For you Denver history buffs, between the ages of 13-23, I've earned a paycheck working in the following restaurants:
Mr. Luckys – My first job ever, I was 12-years-old and swept the parking lot every Saturday and Sunday morning of this Glendale disco.
Epicurean Catering (dishwasher/prep cook)
La Plaza (dishwasher/busboy/line and prep cook/dishwasher.  The old "Playboy Club" on Florida and Colorado Blvd.)
Writers Manor (Banquet busboy – was located at Mexico and Colorado Blvd.  Now a strip mall.)
Old Chicago (prep cook for one day.  I accidently diced instead of sliced an entire 20 pd. bag of tomatoes.  It was ugly.  They were gentle, but showed me the door pretty quickly)
Village Inn (busboy.  This was the big Village Inn attached to Celebrity Sports Center – the biggest in the nation at one time.)
Sorens (cook/dishwasher. Great restaurant at 3rd and Detroit.  My friend Aaron LaPedis now has an art gallery in that space.  I cooked and was an occasional dishwasher.  Really learned how to cook here.  Every Sunday, one diner would send us a bottle of champagne if we got his omelet jussssst right.)
Jose Muldoons (Line cook/prep cook/salad bar manager during college at CU.   Had a great time.  Fun crew.  Drank WAY too much after long shifts.  Will never forget the 'prairie fires'…tequila and Tabasco shots)
Chautauqua Dining Hall (Boulder summer job.  Waited tables.  Loved this job.  Famous line to diners – Me: "Today our special is fried Matta"  Diner "Whats a Matta?"  Me: "Nothing, what the hell's a matta with you?"  It would either get me a big laugh/tip or a "Get me a real waiter")
Provisions – A Deli located at Eastern Market in Washington, D.C.  In 1990, I worked 70 hrs. per-week on Capitol Hill for a U.S. Senator for the grand sum of $16,000 per-year.   My weekend job was slicing meats and making bagel sadnwiches.