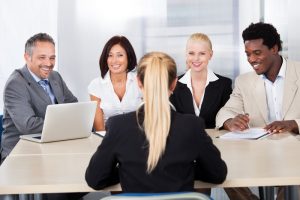 Getting an interview can be an adrenaline-inducing experience!
You've impressed someone with your resume, and now, its time to impress with your wit and charm and persuade them why you are the best candidate worthy of a job offer.
So how do you prepare for an interview? What can you do in advance of, during and after the interview to give the best impression?
First off, do not, under any circumstance, stop looking for a job just because you got an interview. This is a strategic mistake. I've seen job seekers put themselves weeks behind in their job search because they got an interview and were over-confident that they were going to get that job and then it didn't work out. Yes, make time to prepare for your interview, but don't stop looking for a job.
But when you do get an interview, here are some simple tips to help you put your best foot forward:
Right after you get notified of the interview:
1.) When the recruiter calls, ask some good questions. What are the names of those that will be interviewing me? How long will the interview last? Are there additional materials you'd like me to bring to the interview? What is the hiring process and timeline following the interview? All of these are appropriate questions to ask.
2.) Prepare for the interview. Re-read the job posting. Try and de-cipher the 5 major qualifications they are looking for in a candidate and start thinking about how you can tie your background/skills/accomplishments to those qualifications. Think about anecdotal stories from your work experience that can display your expertise, your style and personality. Think about questions YOU might ask if you were interviewing someone for that job.
3.) Research the company thoroughly including the individuals who will be interviewing you. There is tons of public information about companies and people in news stories, on social media and LinkedIN, on the company website. Familiarize yourself with industry jargon that might be thrown at you.
4.) Start establishing a short list of things that you absolutely want to get across during the interview. This short list will prove helpful as these are INTENTIONAL points you want to weave into your answers throughout your interview. Think of things such as:
a. Why you want the job
b. Why you believe you are the most qualified
c. How your experience is well-suited for this job/company/industry
d. Your management/leadership style
e. What problems you could help the company solve
f. What specific expertise is relevant to the job you are applying
Right before the interview:
1.) Double check the time and the address where the interview will be held. Give yourself plenty of time to be there at least 15 minutes early which means checking your GPS and accounting for traffic and/or weather.
2.) Wear your 'power clothes!' This is your interview outfit that fits well and make you feel like a million bucks. It will give you that little extra boost of confidence.
3.) Make sure you bring extra copies of your resume and/or portfolio and any other material required for the interview.
4.) Before you go in for your interview make a quick dash to the restroom. Rinse your hands in warm water (a warm handshake!), look in the mirror and give yourself a Superman/Superwoman pep-talk; that invincible, red-hot last shot of confidence that crystallizes in your mind all of your experience/accomplishments/success that will be on display when you enter the interview.
5.) Turn off your cell phone!
During the interview:
1.) Have a firm handshake and introduce yourself.
2.) Don't talk too fast and give yourself thoughtful pauses to think about your answers.
3.) In an interview, it is critical that you establish your professional credibility by answering questions that clearly demonstrate your expertise and background. A strategic mistake is to assume the answer someone wants and answer with the intent of satisfying that assumption.
4.) Don't be afraid to ASK questions during the interview to clarify questions or to get more information prior to your answer. This is helpful because you'll appear thoughtful and the 'interview' turns more into a friendly conversation.
5.) If someone in the interview is nodding their head, smiling a lot and seeming to agree with your answers, focus on that person whenever you can. It's an internal trick that gives you more confidence.
6.) Use anecdotal stories to demonstrate your work/management style, your emotional intelligence, your personality and how you build relationships and work well with others.You are looking for those moments where you are helping them to imagine you in the role they are interviewing you for.
7.) At the end of the interview, they will most likely ask you "Is there anything else you'd like to share with us?" Remember that list of attributes? Go through that list in your mind and see if you've hit on all of the selling points about yourself you wanted to make.
After the interview:
1.) Send personalized hand-written thank you notes to the attendees, including the recruiter who has been working with you on the hiring process. If you can make 1 or 2 short points that you felt connected well during the interview, do so. Remember, a thank you note is not only professional etiquette, its also a chance for you to get them to REMEMBER you and your interview.
2.) Wait a couple days and then follow up with the recruiter to see if there is anything else they need from you and to also clarify the timeline and the hiring process.