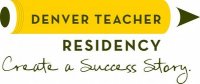 The Denver Teacher Residency, a program of the Denver Public Schools, is a unique program that works with professionals to train them to become teachers.   If you've thought about becoming a teacher, you're needed now more than ever. DTR is a groundbreaking program designed to recruit, train, and support committed and motivated people of all ages and walks of life to become teachers – and ultimately improve student achievement in the dynamic and diverse Denver Public Schools.
For more information on becoming a teacher through DTR, click here.
The following is an interview that was recently published with Antwan Wilson, Assistant Superintendent of Denver Public Schools.
For the 2011-2012 school year, DTR is looking for 50 residents to train to become teachers in Denver Public Schools. As the program expands to prepare teachers in secondary education, we took this opportunity to sit down with Assistant Superintendent Antwan Wilson to hear what he thinks about DTR expanding into the district's middle and high schools. Antwan has served as the Principal at Montbello High School, and has been the Assistant Superintendent for the past three years.
How can a program like DTR make an impact in education?
We want to have the best and brightest teachers working with our students. DTR can have a tremendous impact because they find professionals who aren't traditional teachers but who have a strong passion to educate students. This group of people brings a diverse range of experiences and has worked in collaborative environments, and can impart these experiences onto our students.
What are some benefits to having new teachers to the district train in a program like DTR?
Ultimately, we want to be in a position where we are keeping a high energy level in our schools. When you get teachers who have been trained in a program like DTR – one that helps them think about pedagogy while bringing skills with real-world application into the classroom – it helps to energize a school's faculty, which makes a tremendous difference to our kids.
What are some of the challenges facing secondary teachers that are different from those that elementary grade teachers face?
Both elementary and secondary teachers have students who come in with great challenges. I think that at the secondary level it's a bigger challenge to make that initial connection in order to have a longer-term impact and be able to help students grow educationally.  A second challenge of teaching at the secondary level is that the range of students' abilities has the potential of being much wider than at the elementary level. What can happen is that you may have one student who is clearly advanced and in a position where they could take a college course at the age of 15, while you have another student who is performing at the third grade level. The difficulty is determining how a teacher provides an educational environment that meets the needs of both of those students. It's a tremendous challenge.
Why would someone considering becoming a secondary math teacher want to learn to become a teacher through DTR?
Many people have content knowledge and the desire to become teachers. What's important in being an effective teacher is to also have the pedagogical knowledge to develop lessons so the material is accessible and relevant to students, while also being able to adapt your approach and techniques to meet the needs of all the students in your class. A program like DTR finds candidates who have that content knowledge and desire, and then provides the opportunity to develop the pedagogical skills needed to be effective.
What advice can you give to someone who is considering becoming a teacher?
I would recommend they ask a lot of questions, and try and determine whether or not they like to be challenged by kids. You are going to find people who love their content, but they need to make sure that they love their content and that they love being challenged by kids. They should also understand that perfection is illusive. Which means effective teaching is something they will need to work at every day of their teaching career.
For more information on becoming a teacher through DTR, click here.