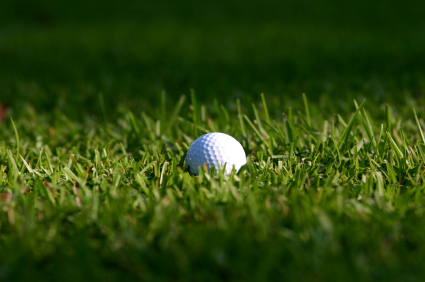 A few years ago, I was out playing golf with my buddy Matt Sugar, the only person on this planet I can actually beat in golf.
I was sitting a the tee of a particularly challenging hole.  I looked down the fairway, tried my best to aim and prayed to hit it hard and long.
SHHHMACK!
I swatted the living life out of the golf ball.  I hit that golf ball so hard, so perfect and so straight my friend and I looked at each other in disbelief!  I swear I saw smoke coming off of that ball.  It must have gone 275 yards – without question, the best shot I'd ever hit.  We watched it as it landed in the distance and then rolled another 20 yards down that fairway.
WHOO HOO!! I yelled.
We zipped off in our golf cart with thoughts of a birdie infiltrating my mind.  We got to the point of where I hit the ball, stopped the cart…and then….nothing.  We couldn't find the ball!
We looked in the grass, we looked under shrubs and behind trees.  We scanned the fairway…left, right and center, behind us, in front of us.
We retraced the path of the ball and then looked in all the same places thinking that maybe we were looking 'too fast.'  Did a squirrel get it?  Did I hit it so hard it went in the hole?
I looked IN the trees.
By God I wasn't going to lose this ball and then take a penalty stroke on the best shot of my life!
Soon the golfers behind us started swearing at us to keep moving and we saw the course ranger motoring towards us about to give us a delay of game warning.
With great disappointment and frustration, I dropped another ball and hit a lame shot 30 yards left of the green.  We got back into the cart and drove off.  I looked back one last time wondering what happened to greatest golf shot of all time.
Then I saw it.
My golf ball – the perfect hit, the best shot of my life, the blast that convinced me I could actually play this stupid game – was lying right there.  It had been sitting underneath my golf cart the whole time.  We'd never even thought to look there.  My friend Matt was laughing so hard he started to cry! (For the record, I still beat him by 7 strokes.)
For job seekers, the point of this story is simple.
Does your job search feel like you are constantly wandering around with the same results? Looking under the same trees, the same brush, looking left and looking right, and you are still not finding a job? Back up for a second and ask yourself if you are missing out on the most obvious opportunities by 'sitting on your golf ball'.
In other words, you may be wandering all over the place looking for your 'ball,' when in fact, your greatest opportunities exist in the most obvious, yet ignored location.
Every job seeker has qualifications in the form of their skills and talents, but too many job seekers are wasting their valuable job-search time looking for a job and trying to position themselves for a job that is that is really not centered on the true skills and talents they have to offer.  Sending out dozens of resumes for positions where you are simply not qualified will not get you the results you seek. I hear from corporate human resource recruiters who say their number one frustration is receiving resumes from job seekers who don't match the basic qualifications posted in the job posting.
Do a simple inventory of your past jobs, experiences, talents, skills and expertise and focus on the jobs that you are most likely going to be considered a competitive candidate.  Keep centered and in tune with your skills and your talents and make your strongest argument for being hired by presenting and proving your strongest qualifications.